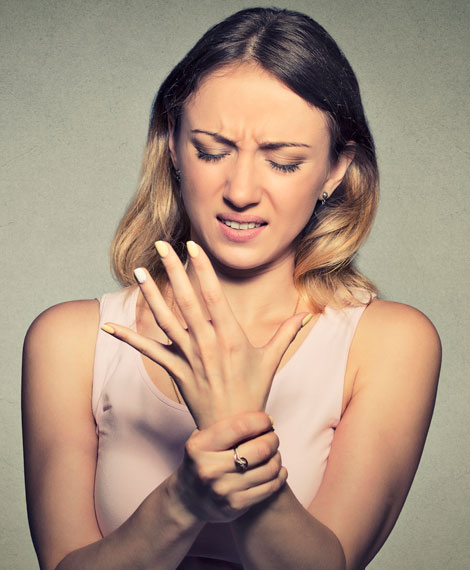 Joint pain can be discomfort, pain or inflammation arising from any part of a joint — including cartilage, bone, ligaments, tendons or muscles. Most commonly, however, joint pain refers to arthritis or arthralgia, which is inflammation or pain from within the joint itself.
Joint pain can be mild, causing soreness only after certain activities, or it can be severe, making even limited movement, particularly bearing weight, extremely painful.
Causes
There are numerous possible causes of joint pain. Causes of joint pain include:
Joint pain is rarely an emergency, but can cause significant pain and functional limitations depending on the severity. It is recommended that individuals consult their physician if joint pain is accompanied by:
Swelling
Redness
Tenderness and warmth around the joint See a doctor immediately if your joint pain is caused by an injury and is accompanied by:
Joint deformity
Inability to use the joint
Intense pain
Sudden swelling
Treatment
When caring for mild joint pain, the following are recommended:
Try an over-the-counter pain reliever, such as ibuprofen (Advil, Motrin IB, others) or naproxen sodium (Aleve).
Avoid using your joint in ways that cause or worsen pain.
Apply ice or a package of frozen peas to your painful joint for 15 to 20 minutes a few times each day.
Apply a heating pad, soak in a warm tub or take a warm shower to relax muscles and increase circulation.
Activity modification and/or physical therapy.
Steroid Injections can be effective for treating joint pain caused by Inflammation and are a conservative measure in diagnosing and addressing joint pain.
REFERENCES:
http://www.mayoclinic.org/symptoms/joint-pain/basics/definition/sym-20050668