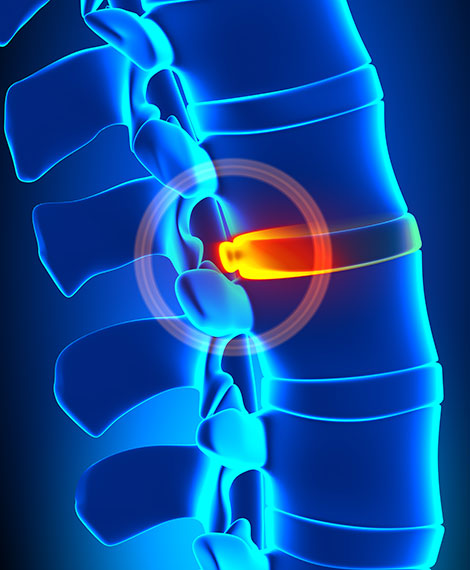 Spinal discs play a crucial role in the lower back, serving as shock absorbers between the vertebrae, supporting the upper body, and allowing a wide range of movement in all directions. Spinal discs are made mostly of water and a "jelly like" collagen substance. This makes them prone to injury or herniation or "bulging" thereby pinching nearby nerves.
If a disc herniates and leaks some of its inner material, though, the disc can quickly go from easing daily life to aggravating a nerve, triggering back pain and possibly pain and nerve symptoms down the leg.
TO LEARN MORE ABOUT BULGING DISCS CLICK ON THE VIDEO BELOW:
http://www.spine-health.com/video/lumbar-herniated-disc-video
These are some general characteristics of lumbar herniated disc pain:
Leg pain. The leg pain is typically worse than low back pain. If the pain radiates along the path of the large sciatic nerve in the back of the leg, it is referred to as sciatica or a radiculopathy.
Nerve pain. The most noticeable symptoms are usually described as nerve pain in the leg, with the pain being described as searing, sharp, electric, radiating, or piercing.
Variable location of symptoms. Depending on variables such as where the disc herniates and the degree of herniation, symptoms may be experienced in the low back, buttock, front or back of the thigh, the calf, foot and/or toes, and typically affects just one side of the body.
Neurological symptoms. Numbness, a pins-and-needles feeling, weakness, and/or tingling may be experienced in the leg, foot, and/or toes.
Foot drop. Neurological symptoms caused by the herniation may include difficulty lifting the foot when walking or standing on the ball of the foot, a condition known as foot drop.
What is a herniated disc? Click here for more information:
http://www.spine-health.com/conditions/herniated-disc/whats-a-herniated-disc-pinched-nerve-bulging-disc
At Restore Medical Partners, we will complete a thorough review of your history and ask patients to describe the location, severity and type of pain, in addition to the history of the pain: when the patient started to feel it, and any activities or positions that make the pain better or worse. We will review your MRI or order imaging if you do not have imaging completed on your first visit. Then, we will explain to you what is causing your low back pain. Our goal is to prevent major surgery and use minor interventional techniques to relieve your pain and get you back to doing the things you enjoy. For a disc herniation causing sciatica or lumbar radiculopathy, we may recommend an epidural steroid injection. Some patients may require a combination of techniques to completely resolve your pain symptoms.
To Learn more about epidural steroid injections for a bulging disc, click here:
http://www.spine-health.com/video/epidural-steroid-injections-back-pain-and-leg-pain-video
REFERENCES:
http://www.spine-health.com/conditions/herniated-disc/whats-a-herniated-disc-pinched-nerve-bulging-disc